BELL FRP Molded grating
is manufactured in an open, heated mold system. Continuous E-glass roving's are placed in the mold in alternating layers and completely wetted out with resin. This continuous process produces an integral, one piece construction which provides excellent corrosion resistance as well as bi-directional strength.
T
here are a number of different molds available resulting in a extensive range of panel
sizes, thickness and mesh patterns.
Industries
Chemical plant and metal finishing;
Construction engineering, traffic and transportation
Petrochemical engineering, ocean survey, water engineering
Food and beverage plants
Textile printing and dyeing and electronic industry
Advantages

:
√. Anti-fire
√. Anti-corrosion and anti-aging
√. Anti-slippery
√. Light but high loaded strength
√. Long service life and maintenance free
√. Non-conduction or magnetic
√. Easy installation and rich colors
√. various sizes and colors available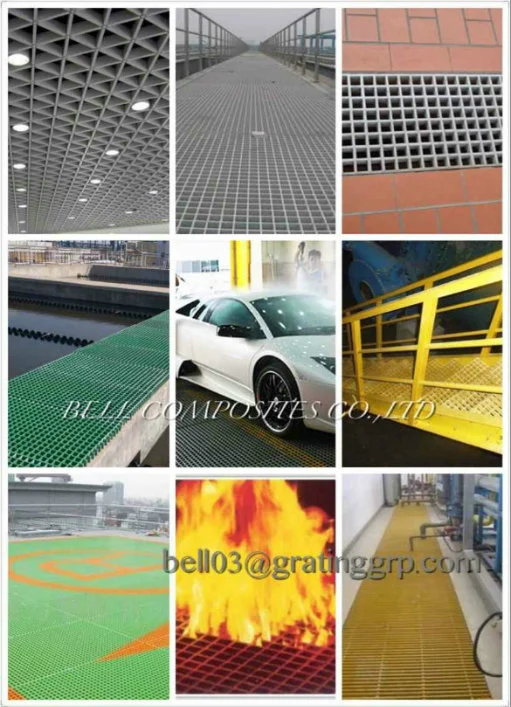 Industrial GRP Grating, Galvanised Steel Metal Gratings & Fibeglass Grid Flooring
FRP/GRP molded grating for ramps, walkways, platforms and washbays. It has an anti slip surface in wet, oily and icy areas. Industrial GRP grating is light, strong, easily installed and available in all sizes, thicknesses and fixings are also stocked.Often referred to as GRP grating and a great alternative to steel gratings, (glassfibre reinforced plastics) this material is generally know a the material for the construction of chemical plant and yachts.Anti Slip Grid Floor Grating - Anti slip surface for health & safety requirements,Anti slip Grid Flooring - slip resistant to suit industrial flooring applications. fixings available.