Tactical Aluminum Hand fore grip Red Laser Flashlight with T6 600 hight hard Lumens LED Light
Model: ES-LS-GL06R
FDA accession number is available for this model.
Product Origin: China
Supply Ability: 1000 pcs/month
Minimum Order: 100 pcs
Delivery Lead Time for MOQ: 30 days
FDA Certified with accession number available.
TECHNICAL DESCRIPTION
Wavelength: R 635~650nm
Laser Power Output: G<5mW
LED power: 3W / 550- 600 lumens
Battery: Two CR123 of 3.0V each Lithium Batteries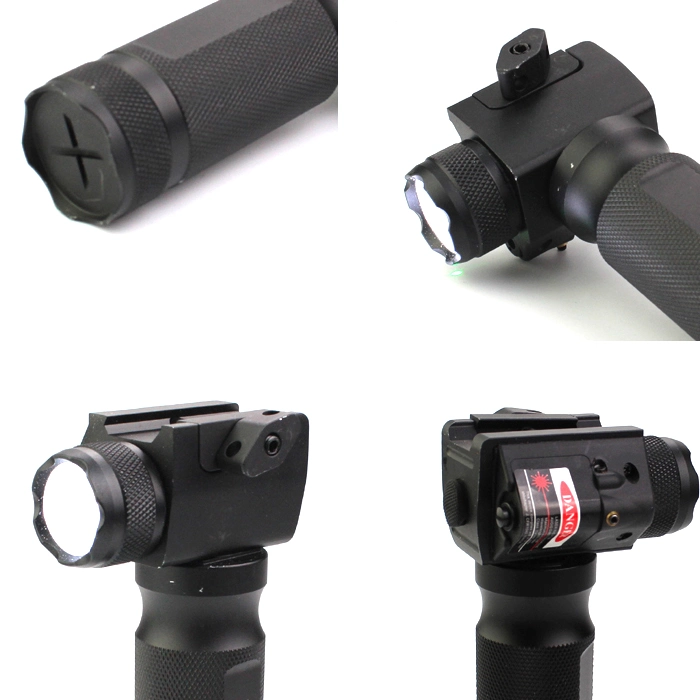 Laser detailed information
Lense material: Optical glass
Laser dot shape: Dot for red laser
Laser dot size: ≤5mm at 25m; 15-25mm@50m
Red Laser Working Temperature: -30C ~ +50C
LED detailed information
LED Working Temperature: -40C ~ +50C (-8F~122F) Life time: ≥ 5000 hours
LED effective range: 130 meters
Working Voltage: 3V-8.2V
Operation: Ambidextrous Momentary/Steady on-off Switch, Tail pressure pad on-off switch
Warranty: Extended Warranty of 1 year
Construction: Aircraft aluminum 6061-T6
Net Weight: 164g with pressure pad switch
Finish: Anodic oxidation/ V'r 3 black
Rail Mount: Integrated MIL-STD-1913 Picatinny Rail
Working time for single red laser: 40 hours
Working time for single LED light: 2.5 hours
Working time for both red laser + LED light: 2.3 hours
KIT INCLUDES
Tactical Handgrip red laser LED Flashlight
CR123X 2 3.0V lithium batteries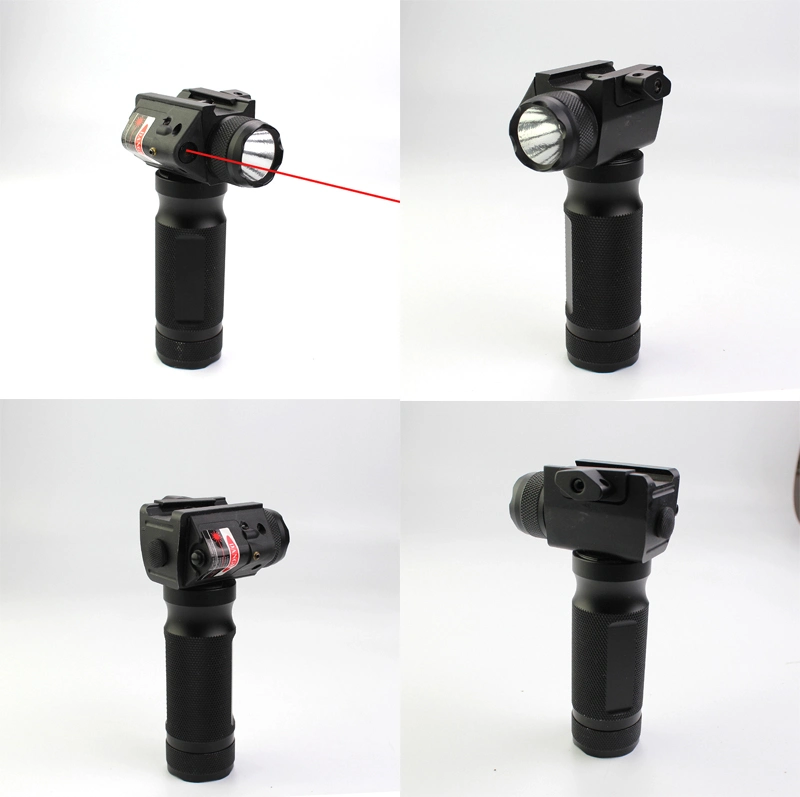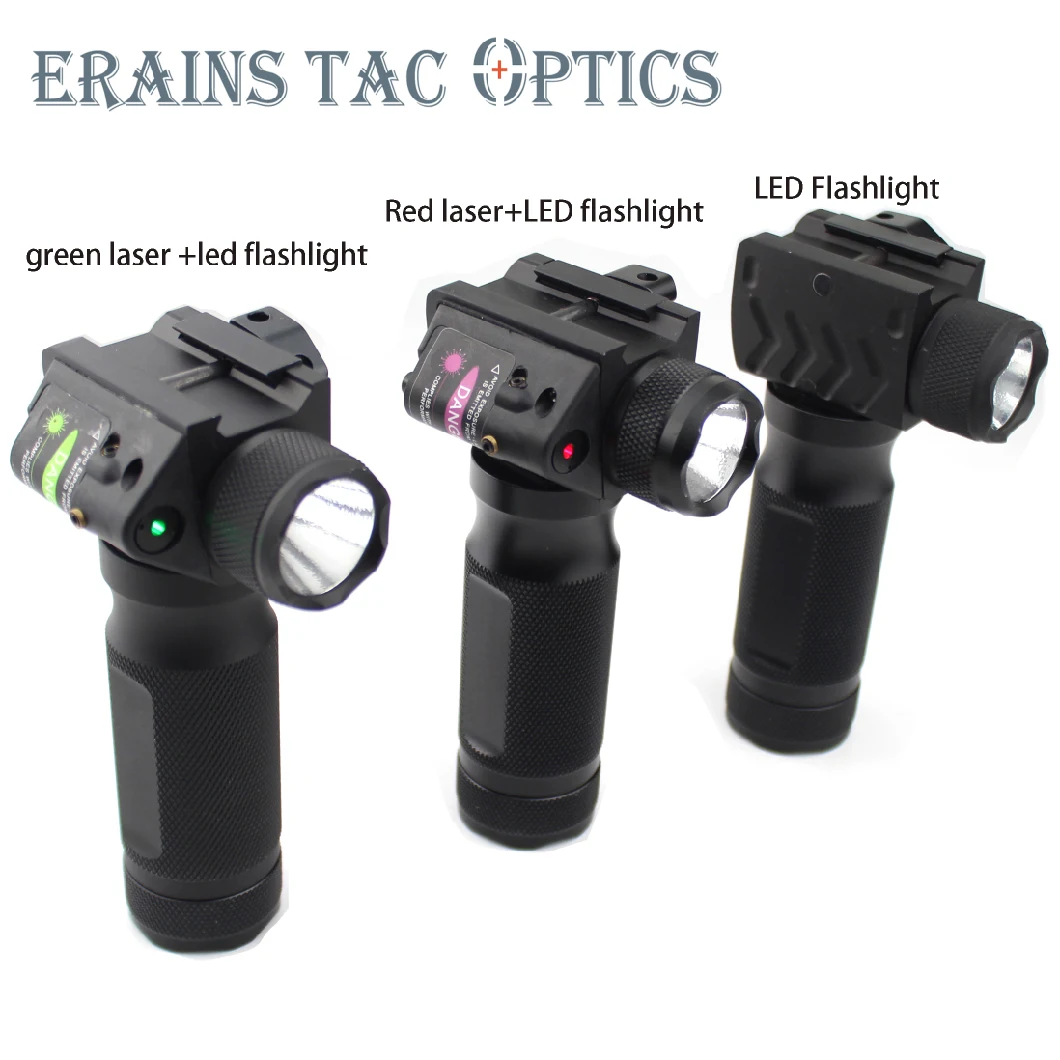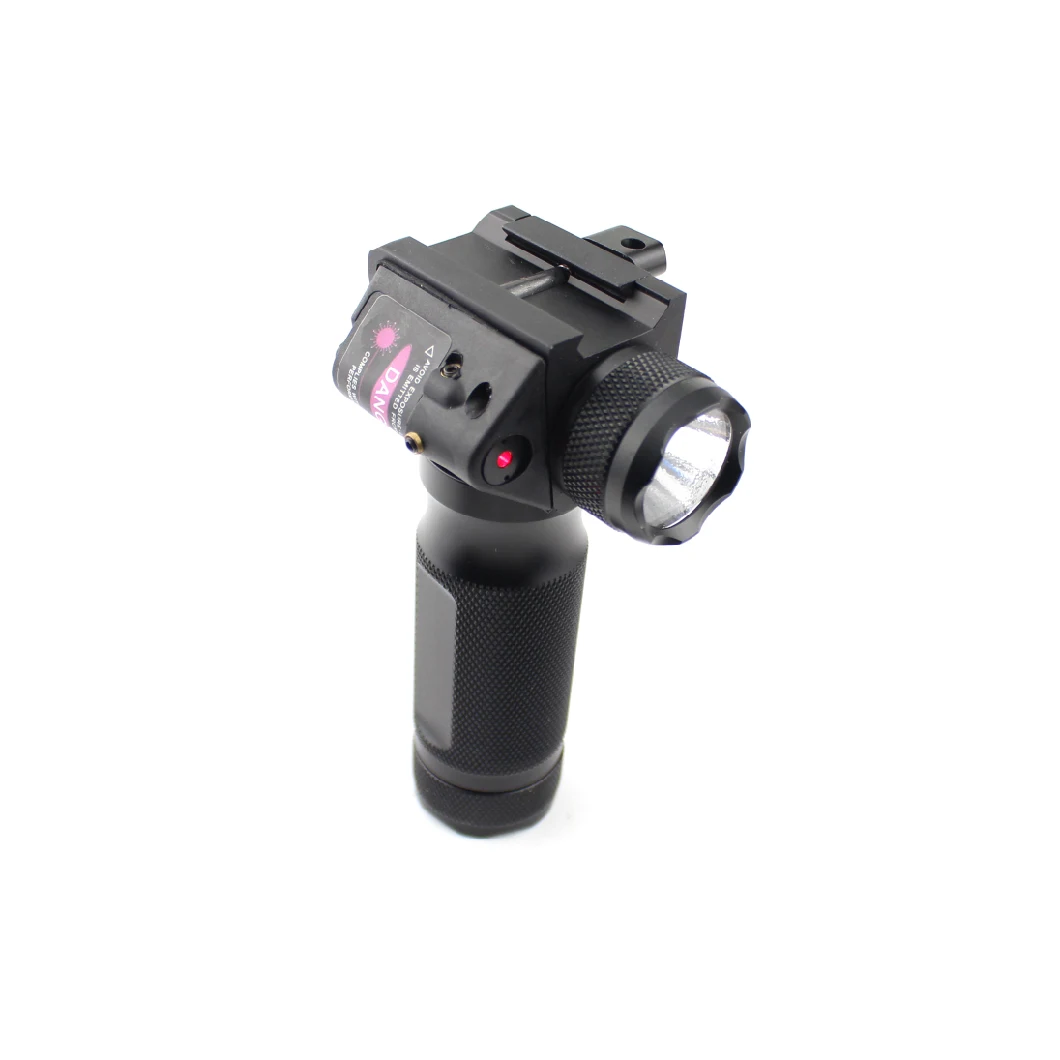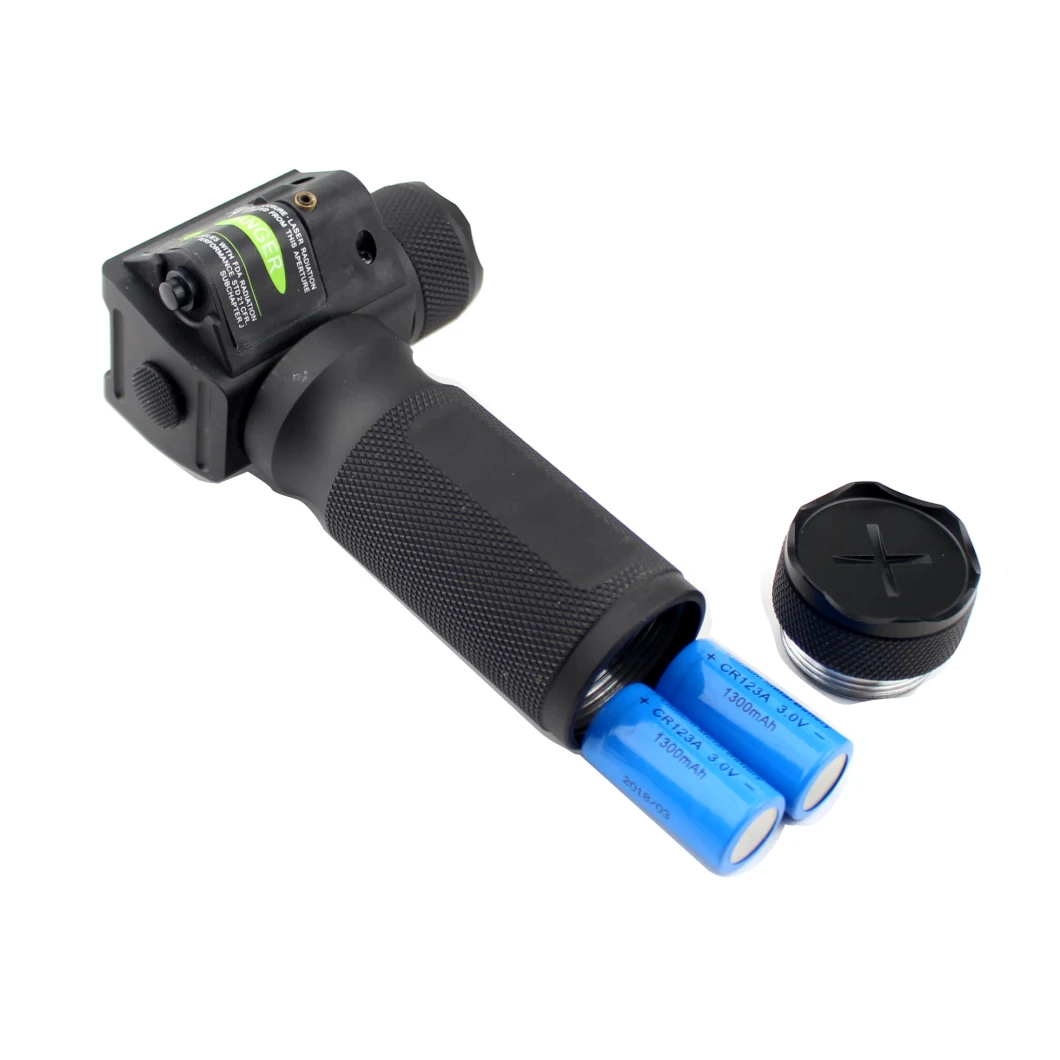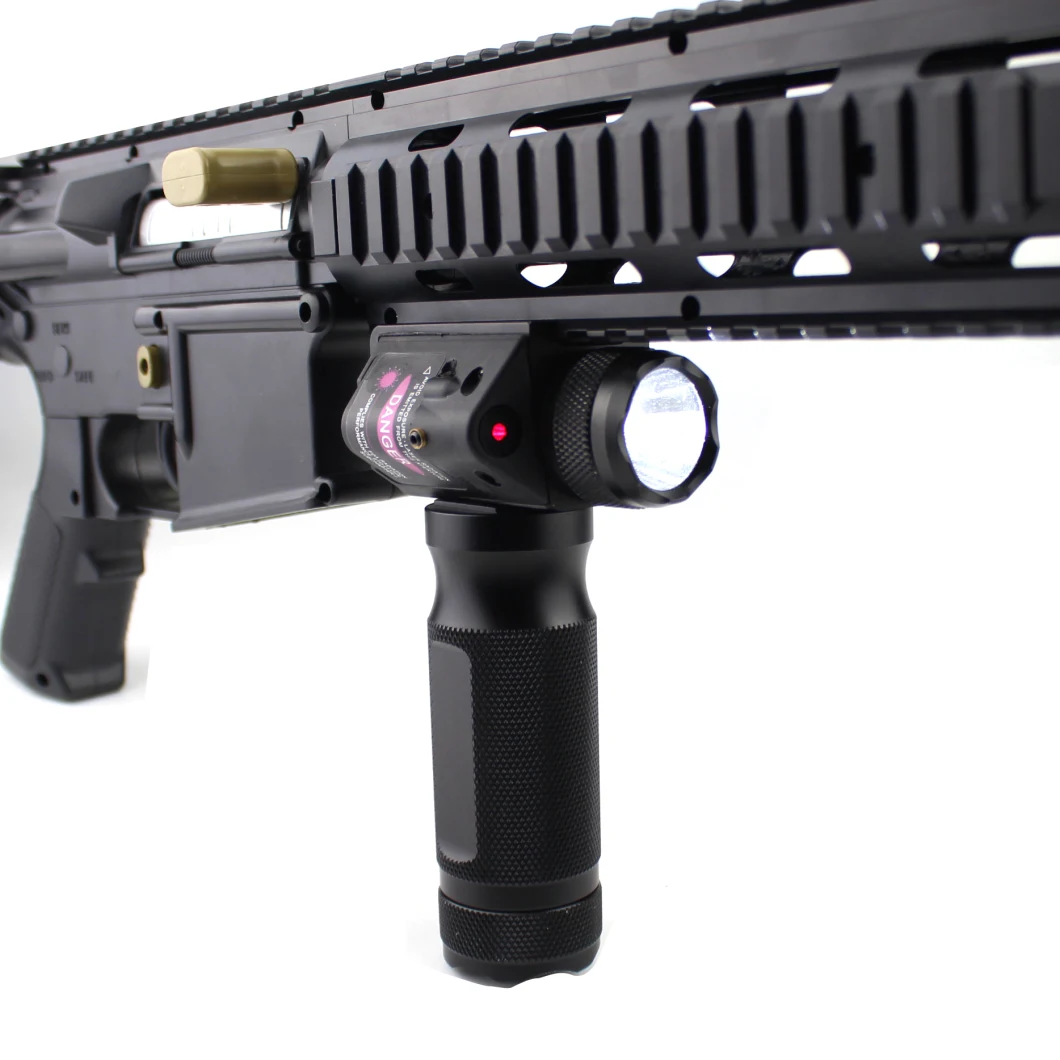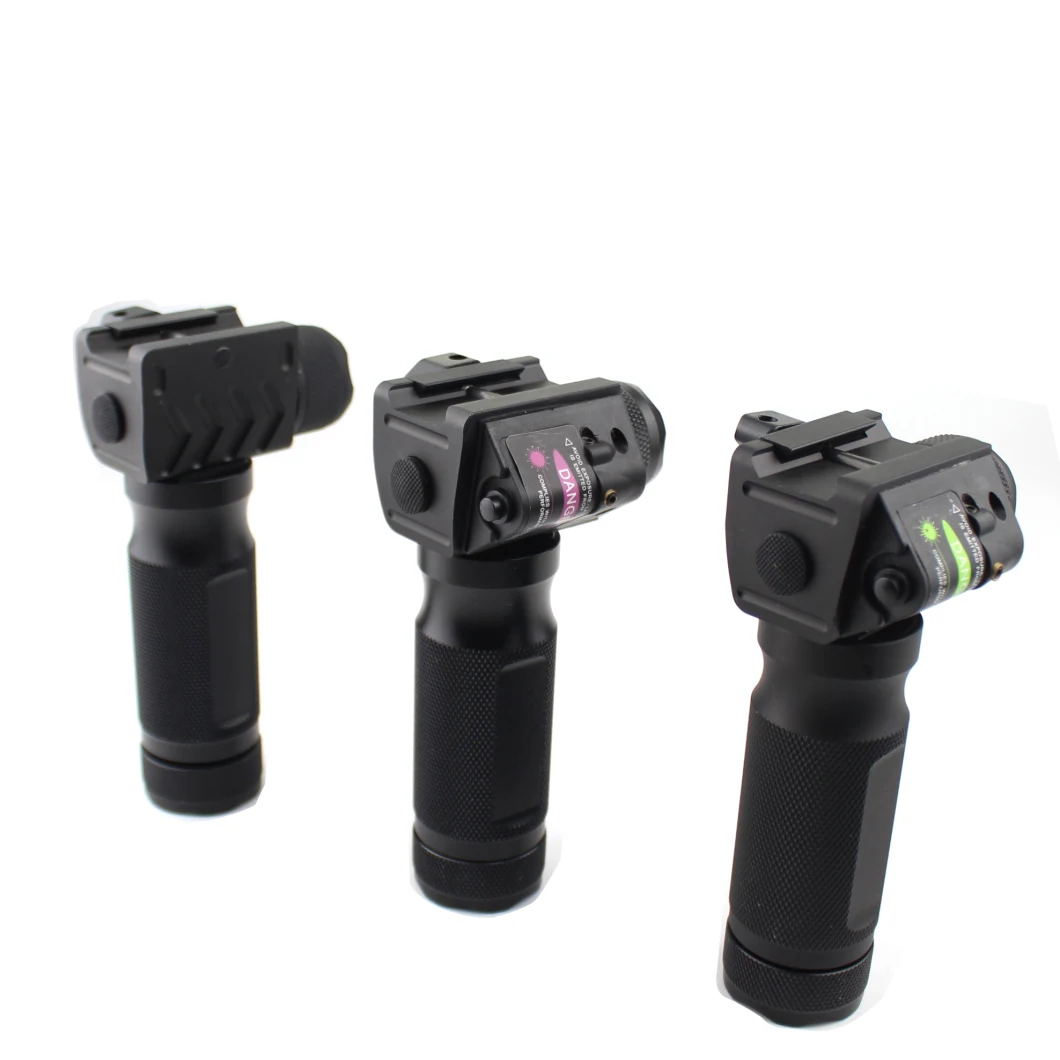 PACKING
Packing: 1 unit/gift box, 50 units/master carton
Unit package: Gift box paper box
GW of each individual package with full sets: 580g
Inner carton and Master Carton: Top cardboard carton

The detailed size info of this Grip light / laser could be noted as below: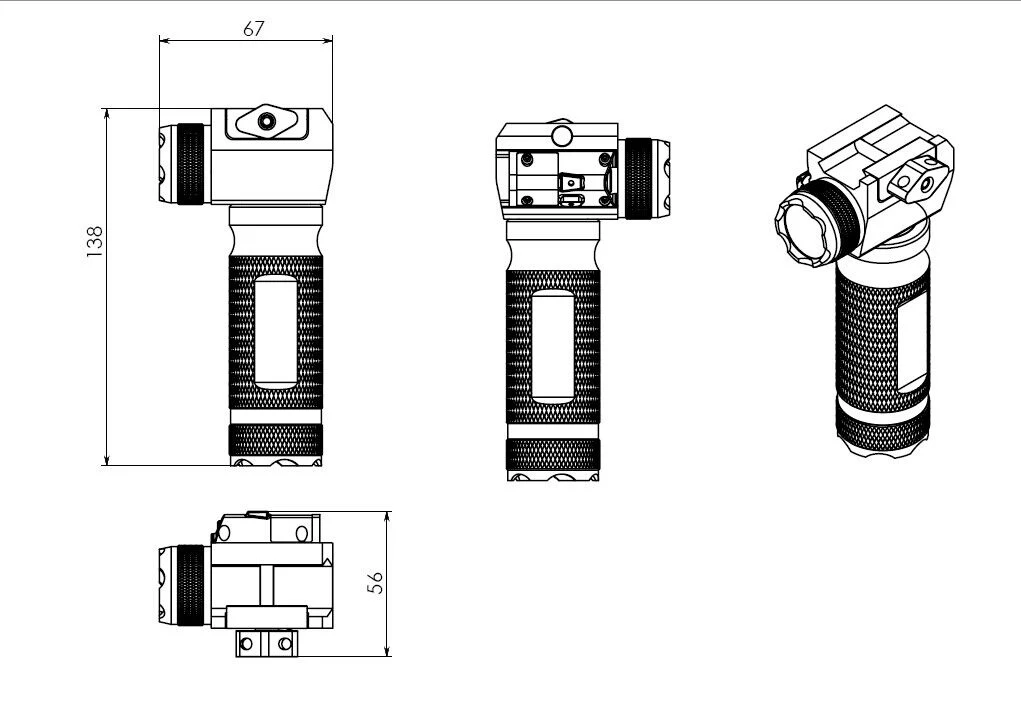 FEATURES
Quick target acquisition
Lightweight
Compact
Safe and adjustable
Dust and Shockproof
Alternative Momentary/Steady on-off Switch
Machined anodized aluminum housing
Fits existing light bearing holsters
Adjustable mount flexibility that can accommodate the Glock or Picatinny (1913) accessories
It has 3 opearating modes of red laser on only, LED light on only and both red laser and LED light on
(LED light has strobe mode)
LASER SIGHT ZEROING
For a laser mounted below or to the side of the bore, there is only one distance where the bullet path will coincide with the laser sight line, this point is the zero range.
Laser adjustment and the muzzle velocity of the bullet determine where this point occurs. The user must decide how high above or below the sight line the bullet can be allowed to strike and adjust the sight accordingly. At distances less than the zero range the bullet will be above the sight line. Beyond the zero range the bullet will be the sight line.
If mounted to the side, the bullet will also deviate to the side of the laser line, as well as up and down. In practice, a ES-LS-GL06 series combo on a macginegun or shotgun can be adjusted to keep the bullet strike within about 2 high and 2 low out to about 100 feet.

BATTERY SUPPLY
The ES-LS-GL06 Series laser sight+LED light combo uses 2x CR123 Lithium Non-Rechargeable Batteries. The CR123 battery negative and positive pole has been indicated on the housing.
DANGER: DO NOT use anything other than 2x CR123 lithium 3.0V battery or other unmatched rechargeable batteries with this product.
WARNING / CAUTION
NEVER point the laser directly at or into an eye. This may cause damage to the eye or blindness.
When zeroing the laser follow all standard firearm safety precautions.
If the laser sight is used on different weapons then zero adjustment may again be required.
The laser sight has an anti-shock design, but a serious blow to the laser, the weapon or rail may require-zeroing.
Don not attempt to open or modify the laser cartridge without proper guide.
Our Service
Except man-made mistakes, we will exchange the defective with a brand new one within 14 days after you get our product. According to the guild regulations customer shall be responsible for the returning shipping fee.

Warranty: 18 months free warranty with up to 5 years limited warranty for this model designator.
Warranty, we offer 18 months limited warranty for our products. Damage due to misuse, ill treatment and unauthorized modifications and repairs are not covered by our warranty.
Shipping Method, We provide comprehensive shipping methods, for small quantity orders we ship by DHL Air-Express, or EMS/TNT Express service, it is safe and fast. For large quantity orders we can ship by Air transportation or sea transportation, also we can ship order to buyer's cargo agent in China. We quoted prices are EXW price, don't include shipping cost.
Company Policy: Strive for the Customer Satisfaction
We have rich experience upon the international order all over the world. We can deliver the order to your office or home directly. We will combine the shipping cost for multi items purchase.
FAQ
Finally, your feedback and suggestion are very important for us.
Thanks again for your attention. We sincerely hope you will enjoy our products.
All our products are built for real firearms. Our latest designators are manufactured with high quality components and materials. Excellent quality and stable performance. Water resistant, shock proof and recoil proof via (under) necessary condition testing.
Erains TAC Optics Subcompact minus 30 centigrade workable New Military Standard Tactical Handgrip red laser flashlight with T6 600 lumens LED for shotgun or other similar weapons.